My Balloon Porn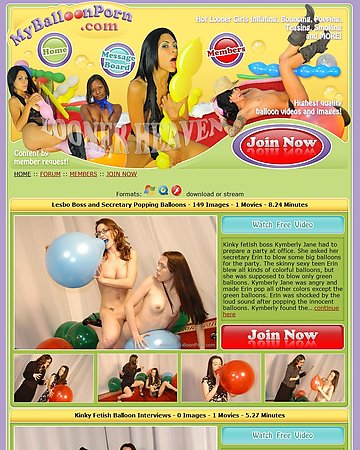 Visit Site
Quick Facts
Downloadable movies
Flash player
Free of drm protection
High def movies
Part of site network
Pictures (non-screenshots)
Primarily exclusive content
Streaming movies
Zip packed pictures
Categories
Tags
Reviewed by admin over 8 years ago.
Our My Balloon Porn review found that this fetish site exists for one reason, and for one reason only: to document hot girls writhing around with balloons. They inflate them, push them, poke them, smack them, sit on them and pop them. Photo galleries and videos of their shenanigans are showcased on a clean, easy to navigate site, but with limited amounts of content.
Pricing
| | Price | Period | Rebills | Additional Info |
| --- | --- | --- | --- | --- |
| Best Deal | $19.95 | 1 month / 30 days | Rebills after every period | |
| | $39.95 | 3 months / 90 days | | Non-recurring rate |
| | $74.95 | 6 months / 180 days | | Non-recurring rate |
| | $100.00 | 1 year | | Non-recurring rate |
Payment Processors: CCbill, DirectPay EU, Zombaio
Concept And Introduction
My Balloon Porn lays out the site's entire premise in one succinct sentence: "[My Balloon Porn features] hot Looner girls inflating, bouncing, popping, teasing, smoking and MORE!" Here you'll find 100% exclusive photos and videos of hot chicks blowing up balloons, rubbing balloons all over their bodies, swatting balloons at each other and generally having a grand old time with inflatables of all shapes and sizes.
Porn Talk
If you've ever listened to pop vixen Nena's 1984 hit single "99 Red Balloons" while stroking it, you might be a looner. What's a looner, you ask? Why, a balloon fetishist, that's what! And if you're loony about 'loons, My Balloon Porn might be just what the doctor ordered. Get ready to pop... a boner!
Tech Talk
Photo sets are given far more consideration than videos - while My Balloon Porn's join page promises "Huge New Pics And Mind-Blowing Close-Ups!" there's no mention anywhere of video content. There are 21 pic galleries currently online, all of which can be downloaded as zip files but not viewed as slideshows. Image resolution varies from set to set - a random sampling of galleries revealed pics sized 950x632 and 664x1000. The images themselves are pro-shot, bright and vibrant, but nowhere near "huge."
Small Talk And Personal Opinion
Now, I know balloon fetishism is one of those niches that kind of flies below the radar, but that doesn't mean its fans should be shafted for digging it. My Balloon Porn bills itself as "Looner Heaven" - as is the case with most porn sites, that's a bit of an exaggeration. Don't get me wrong - there's nothing wrong with the girls on the site (all of which are quite cute and have nice tits), the attitude exhibited in the content (which is light and fun) or the site design (which is clean and easy to navigate). The problem lies in My Balloon Porn's rather small size. I mean, 21 photo galleries and 22 videos? Twice-monthly updates? Are these looners loony? They've got some unique and very high quality fetish material here. If I were them I'd be cranking it out in volume. If you're the patient type the high quality of the material and its focus on the fetish will probably outweigh the slow updates in the end, though.
Conclusion
My Balloon Porn has a fun, interactive vibe to it - it links to a message board that the site's webmaster (and star) Mistress Ania posts on somewhat regularly, and it promises future content catering specifically to member requests. The photo galleries and videos are also fun, documenting sweetly sexy girls who love getting freaky with balloons. The question is, though, whether or not all this fun makes up for the fact that there's very little content to be found here.
My Balloon Porn Screencaps